Top 7 No Annual Fee Credit Cards Of 2018
January 18, 2018, Written By John H. Oldshue
There are plenty of different credit cards on the market, many with tempting offers and rewards, so it can be hard to figure out which card is best for you. Some credit card companies charge a fee when you are first approved for a card which is an expense you can avoid if you search for a "no annual fee" credit card. Credit cards without an annual fee are attractive because you aren't paying a yearly premium just to use a line of credit.
While no annual fee credit cards are attractive, some of these cards have fewer rewards. If you get a credit card without an annual fee, you might not be able to amass as many bonus points or cash back rewards. But for many consumers, a credit card without an annual fee is still the right choice, and one that will ultimately leave you with more cash in your pocket.
Here are seven of the top credit cards with no annual fees:
The
Citi Double Cash card
gives cardholders a terrific opportunity to earn cash back twice: 1% cash back at the time of purchase and another 1% when payment is made, for a total of up to 2% cash back. This card offers 18 months of 0% APR introductory financing on balance transfers, with a 3% balance transfer fee. After the promotional financing rate expires, cardholders will have an interest rate of 14.99% - 24.99%* (Variable) on the remaining balance, depending on your creditworthiness. The card comes with Citi's Price Rewind service, which refunds the difference in price when an eligible purchase undergoes a price decline within 60 days. Other benefits include a trip cancellation and interruption policy, worldwide travel accident insurance, rental car coverage, and a 24/7 concierge service.
The
Capital One Quicksilver card
is a very attractive cash rewards credit card that also comes with no annual fee and a relatively low APR. You receive 0% APR on both purchases and balance transfers for 15 months. Then, the on-going APR is 14.49% - 24.49% (Variable) depending on your credit worthiness. The rewards are incredibly strong and easy to understand. Cardholders receive 1.5% back on all purchases with no limit to the amount. In addition, you receive a $150 bonus after you spend $500 during the first three months of card ownership. The card does have a balance transfer fee of 3%, but no foreign transaction fees. You need "good" credit to qualify for this card.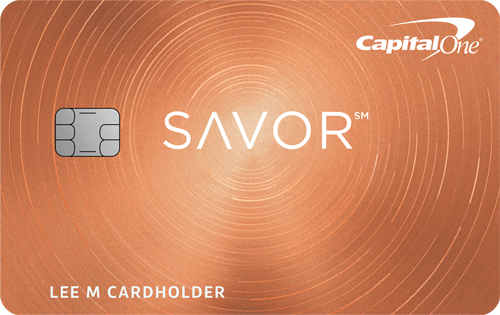 The
Capital One Savor Cash Rewards Card
 is marketed to people who love dining out or creating meals at home. Cardholders earn 1% cash back on all purchases, but the rewards are particularly good on dining out (3% cash back) and grocery store purchases (2% cash back). New Savor cardholders receive a $150 cash bonus when they spend $500 within the first three months of being a card member. The Savor card offers an introductory 0% APR for the first 15 months on purchases and balance transfers. After that, the rate increases to 15.99% - 24.74% (Variable), depending on the cardholder's credit.
This card has one of the industry's best introductory offers in terms of APR. The
Citi Diamond Preferred card
has a 0% introductory APR for 21 months on balance transfers (must be made within the first four months of card membership) and 12 months on purchases. Then, an ongoing APR between 14.49% - 24.49%* (Variable) depending on your credit worthiness. There is no annual fee on this card. The Citi Diamond Preferred card has a very attractive perk for the frequent traveler: 24/7 concierge service to help book your hotel rooms, flights and other travel details. You will need excellent credit to be approved for this card. In addition, there is a 5% balance transfer fee.
The
Capital One VentureOne Rewards card
has an ongoing APR of 13.49% - 23.49% (Variable) depending on your credit worthiness. It has an attractive sign-up bonus of 20,000 miles after spending $1,000 in the first three months, which is equal to $200 in travel. You will then earn 1.25 miles per dollar spent on every purchase. Reward miles do not expire, and there is no limit to the number of miles you can potentially earn. Cardholders can use miles to fly on any airline and stay at any hotel, and there are no blackout dates on these rewards. There are no annual fee for this card, and no foreign transaction fees, an attractive feature for the traveler. There is a 3% balance transfer fee. Consumers with "good" credit may qualify for this card.
Along with no annual fee on the
Citi Simplicity card
, the card comes with one of the best introductory offers of any major credit card: 0% APR on purchases and balance transfers for the first 18 months of card ownership. Subsequently, cardholders can expect an APR of 15.49% - 25.49%* (Variable) depending on their credit worthiness. The card also has no late fees or penalty fees. The card does not have a rewards program. You'll need an excellent credit profile to be approved for this card.
Chase Slate®
The Chase Slate® card has no annual fee, and comes with a 15-month introductory period where the APR is 0% on both purchases and balance transfers. The most attractive feature about this card is the lack of any balance transfer fees for the first 60 days of card ownership. After that period, the balance transfer fee is a very high 5%. This card does not come with the rewards that are associated with a number of other credit cards. You'll also need excellent credit to get this card.
Each of the cards on this list requires either a good or excellent credit score. These cards are extremely attractive, and credit card companies know that consumers want to get a card without an annual fee.
It's great to be able to get out of one of the many fees that are associated with credit cards. If you have worked hard to achieve or maintain great credit, you will likely be eligible to choose from one of these cards. Make sure that apart from the no annual fee, you are selecting a credit card with characteristics that fit your lifestyle and purchase patterns. When you are deciding between several cards, be sure to research the terms and conditions of every card you are considering to fully understand the charges you may be incurring.
---
---
---
About John H. Oldshue
John Oldshue is the creator of LowCards.com. He worked for over 15 years in television and won an Emmy award for his reporting. He covers credit card rate issues for LowCards.com.