Capital One Platinum vs. Secured
August 24, 2015
Written By Jason Steele
If you have had problems with your credit, then you need a tool to help you rebuild it, and one of the most important tools available is a credit card. Of course, it can be very difficult to be approved for a new card when you are rebuilding your credit. Capital One offers both its Platinum card and its Secured MasterCard to allow nearly anyone to rebuild their credit while enjoying the security and convenience of a credit card.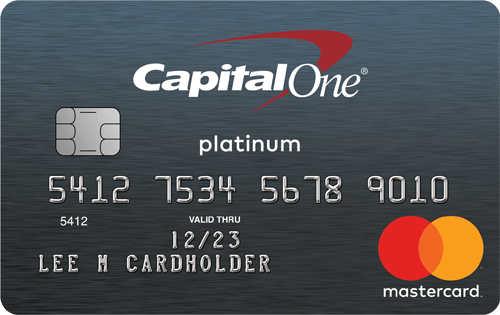 The
Capital One Platinum card
is offered to applicants with "fair" credit, which is typically defined as a FICO score between 640 and 699. This card grants customers an initial line of credit with the opportunity to receive a higher credit line after making their first five monthly payments on time. The standard interest rate is 26.96% (Variable), which applies to new purchases, cash advances, and balance transfers.
This card includes extended warranty coverage which automatically adds a year to the manufacturer's policy on covered items. Auto rental insurance is included to avoid the costly insurance offered by rental car companies, and travel accident insurance is provided to protect you against death or injuries when you use your card to make travel purchases.
In addition, you also receive a price protection policy to reimburse you for the difference when a covered item experiences a price drop within 60 days of purchase. Cardholders also receive 24-hour travel assistance and roadside assistance. Finally, you receive access to Capital One's Credit Tracker app, which provides cardholders with a free monthly FICO score as well as a what-if scenario calculator that allows them to see the consequences to their credit score under different circumstances. There is no annual fee for this card and no foreign transaction fees imposed on charges processed outside of the United States.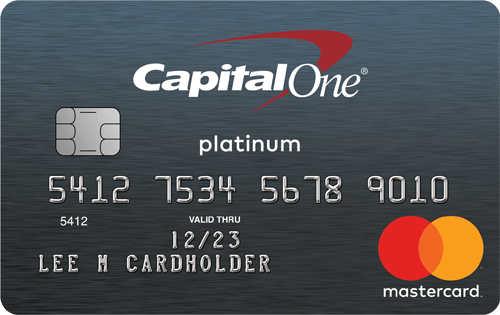 The
Capital One Secured MasterCard
is offered to applicants with poor credit, which is considered to be those with a credit score below 640. To open an account, applicants must go through a three step process. First, you complete and submit your application. Then, upon approval, you will be notified of the amount of the refundable security deposit that you will have to submit, which will be $49, $99 or $200 based on your creditworthiness. In return, you will receive a credit line between $200 and $3,000. Finally, you submit your security deposit and receive the card within two to three weeks.
Once received, this card works much like any other credit card. You will receive a monthly statement, and must make a minimum payment. And if you pay your statement balance in full, you can avoid interest charges, which are at the rate of 26.99% (Variable) for purchases, cash advances, and balance transfers.
This card offers all of the same features and benefits of Capital One's Platinum card including extended warranty, auto rental, and travel accident insurance, as well as travel assistance, roadside assistance, and price protection. In addition, cardholders also receive complimentary access to Capital One's Credit Tracker app. There is no annual fee for this card, and no foreign transaction fees.
Which card should you get?
These are both similar products, with the key difference being the requirement of Capital One Secured card holders to submit a refundable security deposit. Therefore, applicants with credit scores above 640 can can apply for the Platinum card without the need for a deposit.
However, those with credit scores below 640 can still receive all of the benefits of the Capital One Platinum card by applying for the Secured card. In fact, the Secured card happens to be an extremely competitive product within the secured card market. There are very few secured cards that do not have an annual fee or a foreign transaction fee. To the contrary, most other secured cards will charges an annual fee between $30 and $100, while imposing a 3% foreign transaction fee on any charge processed outside of the United States. With other cards, customers can be assessed this fee for making a purchase from a company outside of the United States, even when the transaction occurs in U.S. Dollars.
The Capital One Secured MasterCard is also exceptional among secured cards in that it offers customers a credit line in excess of their security deposit. For example, the minimum $49 refundable security deposit will result in a $200 line of credit, while most other secured credit cards will only offer a line of credit equal to the customer's security deposit.
So when deciding on which card to apply for, applicants should check their credit scores. If it is near 640 or below, applying the Capital One Secured card is the best bet, while those with scores significantly above 640 will have a good chance of being approved for the Platinum card without having to offer a refundable security deposit. By taking the time to examine the qualifications of both of these products, you can choose the one that best meets your needs.
---
---
---
About Jason Steele
Jason Steele is a freelance journalist and an expert on the credit card industry. He contributes to several of the top personal finance sites, and his work is syndicated to mainstream outlets such as MSN Money, Yahoo! Finance, and Business Insider.